Ref:
Date:
Location:
Photographer:
Ref:
Date:
Location:
Photographer:
Paper Cutting Talk and Demonstration
16th March 2017
Clare Lindley, local paper cutting artist, came to our March meeting to give a talk and demonstration. Clare talked of how she had started out as a painter then moved on to paper cutting for which she had achieved more success.
When you think of paper cutting you imagine the small black silhouettes mounted on a white background but, as we witnessed, Clare's art is very different to this.
Clare explained that when she first began her paper cutting she did work predominantly in black and white. It is an art form which requires much practice as in many of her first attempts she had misjudged cuts which ruined the design. However, Clare informed the group, for very little outlay, as all that is needed is a cutting mat, a scalpel and some card; anyone can start with a simple design to create a picture.
Clare's own designs now are built up with many colours, the cutting being most intricate. Her favourite subjects are landscape and animals resulting in very striking artwork. Clare demonstrated her cutting skills, encouraging everyone to have a go.
Both members and visitors attending found the meeting inspirational.
Watercolour and Coffee Demonstration
January 19th 2017
Ripon Arts members met for their first session of the New Year. Derek Stansfield an artist from Skipton provided an interesting demonstration using coffee as his medium. He prefers to use granulated coffee which he grinds to a powder then mixes with water to a paste .He showed the procedure mixing 5 tablespoons of coffee with 2/3 teaspoons of water .The paste was then used as a tube of watercolour paint and applied in the same way.
Derek's choice for his composition was a sea scape, mountains in the background and gorse scrub and rocks in the foreground. He used a big brush with horizontal strokes and a watered down coffee paste to graduate the sky, clouds were inserted by scraping off the colour using scrunched up kitchen roll. Mountains in the distance were painted in using a small pointed brush and relief given by watering down the paste. The sea in the middle of the composition was put in using with a darker coffee mix.
After the break where members had the opportunity to look carefully at Derek's finished paintings and cards the demonstration continued. Dark scrubland on the left of the painting was added using a dry brush scrumble technique and rocks were outlined on the right and painted in. Derek then used the side of a credit card to etch into the rocks and provide detail; the crevices were highlighted using a dark wash with a small brush. Rocks in the sea and birds in the sky were the last elements added to the painting. Derek framed the picture with a mount – amazing how professional a painting looks with such a small piece of card.
This is the first time we have seen coffee being used as a medium providing a "sepia" effect painting and I'm sure the demonstration gave members food or maybe drink for thought and will have inspired them to have a go themselves.
Derek's Coffee Painting
Pen and Ink Workshop illustrated with projected images
20 October
Laraine Simpson
Members were fortunate for their October meeting. to have a return visit from Larraine Simpson who ran a workshop, developing the theme of MARKS. We were given a free hand to introduce a wider colour range and variety of subject. The results were well-discussed.
Art of the Soviet Era
15 September
Professor David Jackson
To give a talk on such a broad topic, yet keep things in perspective, requires a speaker who knows the subject matter well. We were very fortunate in having Professor David Jackson, whose role at Leeds University is specialising in Russian and Scandinavian Fine Art. Utilising a large selection of images, he demonstrated the differences between Western art and Russian and the underlying political background. Altogether a very interesting evening and the large number attending were well rewarded
Mark-Making Demonstration
18 August.
Laraine Simpson
To form a sentence or draw an illustration marks need to be placed on the medium used. Without marks the paper would be blank!
At our August meeting, members were instructed by their guest speaker, Larraine Simpson, on the "Making of Marks". This was very much a "Hands On" evening and we were invited to make our own marks – with some interesting results! Examples were given of marks used in illustration, such as cross-hatch, dots, etc. and Impressionism was an example of a Style of a particular moment or period of time. Artists such as Monet, Seurat and Van Gogh were among the examples shown. It was a full and instructional evening
Eric Ravilious
21 July
Jan Cox
Dr. Jan Cox gave us a slide/talk on the artist Eric Ravilious who, together with his wife Tirzah Garwood and his friend Edward Bawden produced vibrant and splendid murals, all of which were destroyed during the Second World War. His paintings, using limited palettes, depict many English landscapes (including historic chalk horses and giants) one of which - Chalk Paths 1935 – sold for £300,000 in 2014. In 1939 he was appointed, like Paul Nash who in some ways he emulated, as War Artist. This was a work which influenced his painting and that he continued until his death in 1942 when he was "Lost in the Atlantic".
Brian Howard, in thanking the speaker, commented on the fact that so many questions from the audience were indicative of the great interest raised by him in the artist Eric Ravilious.
Artists' Brushes
16 June
Rosemary's Brushes
Members were very pleased on Thursday evening to welcome Rosemary, from Rosemary and Co, Keighley, as their speaker and demonstrator. This is a firm which makes finest quality handmade artists' brushes and Rosemary gave us some fascinating insights into the making and care of the brushes we buy for our art work. She herself started 35 years ago in her mother's kitchen when she began to develop a skill using hair from the tails of Kolinski Sable caught by Canadian trappers. This has now grown into a painting brush industry known all over the world, and Rosemary brought with her a wealth of brushes of various qualities for us to see and perhaps to purchase. The talk which she gave was full of interest and humour, relating well to her audience, and as she spoke she created for us a sable brush of the finest quality - a skill which takes, apparently, 12 to 18 months to learn. We were each given a copy of Rosemary and Co's quarterly newsletter, itself full of interesting and informative articles about the art world, and had enjoyed a really good evening.
Jean Waring, in thanking Rosemary for an entertaining evening, said that she hoped very much indeed that we would see her with us again next year.
Heather Powell spoke of the success of our recent exhibition of paintings. This took place for the first time in the Ripon Community House in Allhallowgate and was a good community event. It seemed that some of the Community House supporters and some Ripon Arts members had never, previously, known about each other. She said that we look forward to our next exhibition at the same venue from 27 August 27 to 3 September.
Our next meeting, in the Allhallowgate Church Hall, will be on July 21st at 7.30pm. when Jan Cox will speak on the subject of Eric Ravilious. Visitors, as always, are welcome.
Oil/Pastel Demonstration
19 May
Robert Dutton
Further to the cancellation from our scheduled programme speaker, at very short notice, our old friend, Robert Dutton agreed to come and demonstrate the use of those pastels few of us are familiar with or find easy to use, i.e. Oil Pastels. He gave his usual careful explanation of materials and how to use them and proceeded to build up, with a careful and unceasing commentary throughout, a truly delightful picture, which, although incomplete at the end was sufficiently inspirational to earn a resounding round of applause.
Joseph Crawhall
21 April 2016
Tim Stimson
Tim Stimson's subject for the April meeting was the Northumbrian born artist, one of the Glasgow Boys, Joseph Crawhall. Tim referred to his own enthusiasm for bird painting and allowed us to share his insights into Crawhall's representations ,particularly of birds. The influences on Crawhall were coming from the impressionists and the Japanese. The Japanese influence could be particularly seen in his tiger and bird paintings. There was a strong measure of humour in the work of Crawhall and in his more serious works clear joy in his subjects could be seen to override the obvious charm of his work.
Yorkshire People and Places, Prints and Drawings in the Mercer Gallery's collection
17 March 2016
Alex Kidson
Our March meeting allowed us to welcome Alex Kidson, author of "Yorkshire, People and Places", and organiser of the exhibition of the same name at the Mercer Gallery in Harrogate. Alex, with support from illustrations from the exhibition identified not so much an account of what was in the exhibition, as an account of how he and his colleagues had arrived at a decision about what to include and what to exclude from the exhibition, given the large amount of material available. By means of displaying four potential pictures he identified what appealed about them, and then, which one was included and the reasons for the exclusion of the others. He illustrated this several times. He further outlined the necessary research to ensure that the chosen pictures were accurately described.
This was a valuable reminder of the need to recognise that what you get in an exhibition or a book or a talk requires a great deal of research and work by, quite possibly, lots of people. A point worth remembering in relation to our visiting speakers in future.
He concluded his talk with a quiz inviting his audience to identify from the ten pictures he now exhibited the names of the picture and the artist. The audience, perhaps not ill-informed but shy, did not achieve to great success in answering, but many groaned at their own reticence the answers were revealed. An interesting evening!
Inspiration into Design
18 February 2016
Debbie Moxon
Debbie Moxon is a designer whose projects have included translating her impressions of Finland into jewellery
Our February meeting took us into the realm of Jewellery making. The illustration of the artefacts made, enabling a clear understanding of the work involved and the skill required in producing the items, which were usefully displayed on a side table.
Debbie gave a clear account of her work with the aid of the projector and, spurred on by the many questions from the audience used her illustrations in a second run-through to clarify her answers. An enlightening and thoroughly entertaining evening
Signs of Our Times
21 January 2016
Frank Rustage
For the January meeting we invited Frank Rustage, a sign writer and artist, to give a talk about, and a demonstration of, his skills. He made frequent requests that we interrupt him with questions to thereby aid the flow of his discourse, but, he really seemed not to need any prodding from his audience. He gave a clear account of how he came to his career and the wide range of signage and surfaces, including shop fronts and van sides, with which he had engaged. He drew attention to local instances of his work and went on to show us his mastery of his craft with ease and fluidity, allowing many of us to take away samples of his work. He earned great respect for his modest manner in the demonstration of his abilities, and, had times been different and his audience younger he may well have enlisted a number of apprentices
Anthony Gormley
15 October
Harry Fletcher
Ripon Arts were pleased to welcome back, Harry Fletcher, having asked him to speak, this time, on the work of Anthony Gormley. Starting with the well-known figure of The Angel of the North and the figures on Crosby beach in Lancashire, Harry went on to enlarge on the range and variety of the work done by Gormley. Stressing the advantages enjoyed by Gormley, in terms of wealth, Harry drew attention to Gormley's eagerness to have an impact on all who saw his work. Whilst praising Gormley, our speaker paused to draw attention to two other figures of the current art scene, one to boo, and one to praise, namely Tracy Emin and Grayson Perry, In that order. Harry concluded with a taster for his chosen topic for his next year's visit to Ripon Arts, Dame Laura Knight.
The Russian Vision: The Art of Ilya Repin
17 September 2015
Professor David Jackson
For our September meeting we were pleased to welcome back Professor David Jackson, whose topic was the late 19th century-early 20th century Russian artist, Ilya Repin. We were quickly able to identify the high quality of Repin's work, even from an early age, and got an insight into the Russia of his time. His work aroused contrasting political reactions from left and right, but with changing levels of approval or disapproval. As he finished, David tested out the likely reaction to a talk on the Stalinist period Art and, hopefully, was convinced of a likely audience. The evening went well. Much interest was shown in the new edition of Professor Jackson's book on Repin
Mixed Media Demonstration
20 August 2015
Robert Dutton
Ripon Arts were delighted to welcome back Robert Dutton for our August Meeting He set out to demonstrate working with mixed media in black and white only and went on to create, out of what might have seemed a chaos on his paper a fine-looking painting of the Yorkshire Dales. He maintained a commentary on the work in progress throughout, giving indication of which medium he was using and the nature of it's application. He gave a useful introduction to the types of paper that can be used, including his own recommendations. The media that he used included, different types of charcoal, water colours, gouache and pastel, amongst other media. The meeting was well-attended and provoked a high degree of interest. Robert is prepared to do a workshop in November. Further details will be made available when this has been settled
Watercolour Demonstration
16 July 2015
Phil Biggs
It was good to meet a new face at Ripon Arts in the person of Phil Biggs who came along to give a demonstration of his approach to water colour painting.He solved the problem many water colour demonstrators in the past have had by working in clear view of his audience at an easel, taking care to avoid the obvious problems, although equally prepared to allow of some running of colour. He announced a preference for heavy skies and powerful clouds and starting in the sky he recommended a development of grey, using ultramarine and burnt umber, with just a dash of the burnt umber added to the ultramarine. In developing his consideration of "greys" he loudly whispered "Payne's Grey", quite able to give it a place in his palette.
Coming slowly down to earth, via the mountains of his Lakeland View he turned to the foreground, here he was concerned to advise as he approached to use of a variety of greens in the picture, that he preferred to mix his own greens without the help of commercial greens.
The evening was well-attended and a lively period of questioning followed this very relaxed and entertaining evening.
Composition: the use of Colour, Mark Making etc.
18 June:2015
Laraine Simpson
For our June meeting Ripon Arts were pleased to welcome Larraine Simpson, who gave a careful exposition of the perceived seven significant points of composition. She gave clear description and illustrated her points well by reference to examples within a wide range of works. One pertinent question, at the end, wondered how necessarily aware of the points of composition an artist was, or would have to be. There seems to be strong evidence in support of awareness, but.......A good evening.
The St Ives Artists 1920-1931
21 May 2015
Jan Cox
For the May meeting Ripon Arts welcomed back Jan Cox, who, having just been awarded his doctorate was able to offer an interesting account of some of the St. Ives painters from the 1920s, namely Ben and Winifred Nicholson, Alfred Wallis and Christopher (Kit) Wood.
With useful detail of their lives and relationships we were also able to appreciate some examples of their work. Winifred, perhaps the least famous, was much appreciated by the audience, impressed by the skill and artistry of her mostly, but not invariably, flower paintings. The naif paintings of Wallis were examined for themselves but also for their influence on the others, particularly Wood and Ben Nicholson.The work of Kit Wood and Ben Nicholson was well represented, making for a pleasant and informative evening.
Working with Acrylics. Demonstration
19 March 2015
Peter Maylor
Our March meeting was enlivened by a demonstration of work in Acrylics by Peter Maylor. He brought along many examples of his own work which he used to demonstrate a variety of the points he was making. He encouraged much interest and offered suitable advice on materials and palette as he carefully built up his demonstration picture. A notable feature of his work, in front of a very full meeting, was the speed with which he achieved a high standard of quality.
Silk Screen Printing Demonstration
James Bywood
19 February 2015
Our first meeting of the year was an encounter between silk-screen printer, James Bywood and an increased and responsive audience. The evening went well with a careful presentation of himself, his interests and his inspirations, by James. He gave a careful exposition of his methodology and then gave as many as wanted to, the opportunity to have a hands-on experience which many responded to. He rounded the evening off with a talk about several of his prints and concluded thereby a very successful opening to the Ripon Arts season.
AGM and Members' Evening
20 November 2014
Our members' evening took place on 20th November with about 35 present. On these occasions the AGM takes place first, then, rather than having our customary lecture, members contribute items of artwork & we hope to have a least one individual doing an informal demonstration. This year Frank Rustage kept us all very much awake with a lively, spontaneous & most interesting demonstration of a harbour scene in watercolour.
Frank Rustage demonstrating
Harbour Scene by Frank Rustage
.
The evening included a very appetising buffet supper of canapés & cake, and a challenging art-orientated quiz which made sure we kept our minds focussed.
This concluded our programme for 2014, but plans are all laid for next year, which starts with our first meeting on 19 February 2015 Anyone who is interested in our varied programme of lectures & demonstrations with the option of contributing to our exhibitions, can request details of events, or applications for membership, via the website."
American Art of the Old West
Brian Howard
21 August 2014
Brian showed how images of America veered from the realistic and factual to the highly romantic- stupendous landscapes or glamorised narratives of life in the West.
He began with an overview of depictions of America from sixteenth century engravings of a land flowing with milk and honey- or game and fishes (often made by people who had never set foot on the 'new' continent) to spectacular nineteenth-century landscapes.
Many early representations were careful and realistic depictions of the novel flora and fauna found by early settlers. Equally intriguing were portraits of Native Americans made by European travellers. Then came landscapes depicting the staggering range and majesty of the continent as it was discovered by white settlers.
He showed us how the opening up of the West was represented in paint- images of canoes and steamships on mighty rivers; wagons pulled by mules and oxen; stagecoaches, and finally, the development of the railways.
Finally came the narrative paintings which gave us the romanticised image of the 'Wild West' as immortalised in many cowboy films; images such as that of the Pony Express (which advertised for lean small young men not afraid of danger- orphans preferred!) - which in fact only lasted a year before the telegraph made it redundant.
Faces and Phrenology
Victorian Attitudes in Art
Tim Stimson
17 July 2014
Our July meeting was well-attended for the return visit of Tim Stimson who was to talk to us about the place of phrenology and physiognomy in the outlook of people in the nineteenth and into the twentieth century. He explained the main criteria of the two "areas of study" and gave illustrations from art, literature and popular culture of how this was used. The most cruel examples seemed to be evident in the depiction of the Irish in mainstream art and in cartoons as conforming to a view of lesser ability, widely accepted, even up to the 1950's particularly in the UK and the USA. The large scale works of Frith were examined for his depiction of characters and to illustrate the speakers themes and we were busy identifying the slope of our neighbours' foreheads, during the coffee break to see what prejudicial views we might entertain. We were treated to quotes from Dickens and the Bronte sisters and even Sherlock Holmes and Moriarty comparing their respective bumps and slopes. A good evening!
An Artistic Journey
Keith Barley and Helen Whittaker of Barley Studio Stained Glass Workshop
19 June 2014
Our June meeting was enhanced by a visit from Barley Stained Glass Studio. Keith Barley talked informatively about the processes and their development, backed by useful illustrations. He was followed in the second half by Helen Whittaker who gave an account of how she had become involved in working with stained glass and then talked about her creative inspirations, well-illustrated by the accompanying slides. She underlined her own role in the overall development of the work of the studio, which of course is very much concerned with work for churches, but, far from exclusively. It was a very inspiring evening.
Nordic Art and the Modern Breakthrough
Professor David Jackson
10 April 2014
It was good to welcome back Professor David Jackson who undertook to give us further insight into the area of his specialism, namely, Nordic Art. He took us to that area of Nordic Art which, succeeding the Romantic period could be called the period of movement into the Modern age, in its more realistic phases. He gave us an insight into the problems of canvassing to set up an exhibition and into the problems of actually mounting one and further the problems presented by different galleries with different coloured walls, together with the important issue of sizes of doors and windows. He illustrated his talk with art from a range of artists from Finland, Denmark, Sweden, Norway and Iceland. The important point was made and illustrated, that the French were not the only Artists in the late 19th early 20th centuries. It was a very enjoyable evening.
Composition
Mike Corbyn
20 March 2014
Ripon Arts in March invited Mike Corbyn to discuss Composition In Art. He was able to stimulate a measure of interest and enthusiasm by his approach which was well-supported by his discourse and well-illustrated by his slides. We were well able to recognise many of the slides of the "Old" and the "not so old Masters", and pick out the lines, triangles rectangles and arcs that he identified for us. The challenge might be to see the effect this has on the collective art of Ripon Arts!! A much appreciated evening.
Doing a Dales View
Robert Dutton
A Demonstration using pastels
20 February 2014
Robert Dutton was our first guest speaker for 2014. He introduced himself and his work and quickly engaged in building up not only his demonstration picture but also the interest of his audience. His demonstration was both enthusiastic and infectious. He presented an approach to pastel painting which was outside the experience of many of the members. Ideas and tips were abundantly available in what proved to be a most enjoyable evening where there was a warm buzz of appreciation.
Due to shortage of time he was unable to finish his picture but below is how it looked at the end of the evening:
Unfortunate events, arresting times and an unsung heroine – The life and major works of Charles Rennie Mackintosh and Margaret Macdonald Mackintosh
Harry Fletcher
17 October 2013
Ripon Arts welcomed back Harry Fletcher to give his talk on Charles Rennie Mackintosh and Margaret Macdonald Mackintosh. He was very much at pains to stress the part played by Margaret in the work of Mackintosh and was careful to point out aspects of his architecture which bear the imprint of Margaret. Questioned from the audience about Mackintosh's furniture, whilst praising his design Harry pointed out that Mackintosh was not a craftsman himself. Harry sang Glasgow's praises and urged visits for wider purposes than just to see Mackintosh's work but nonetheless urged visits to the School of Art, the Helensburgh House, and the University reconstruction of a Mackintosh House, not forgetting the tea-rooms on Sauchiehall Street. In later life his, possibly over expensive, architecture having suffered a decline in demand he turned increasingly to art and produced some delightful floral and architectural pictures. Margaret's work possibly needs an exhibition to show its value (of which Mackintosh himself was in no doubt),and extent. The evening was well-attended.
Wit and Humour in Art
Alex Purves
19 September 2013
It was good to welcome back Alex Purves who gave his talk on "wit and Humour in Art". He led us gently through a range of artists demonstrating the breadth of the notion of "humour" from Guiseppe Arcimboldo with his heads composed of fruits, or flowers, and other natural elements, right through to Beryl Cooke (who was really quite slim despite her self-portrayal as somewhat stout). The talk was well-illustrated with slides and allowed us to detect the humour present in so much art. Hogarth was well represented, and Rowlandson, and, in the twentieth century, obviously enough, Rene Magritte, but also, somewhat surprisingly, Walter Sickert, and more recently, Russell Spear. It was a very pleasant evening, somewhat thinly attended.
Augustus John
Brian Howard
15 August 2013
We expected an intriguing lecture from Brian and he didn`t disappoint us,
The third of four children whose mother died when Augustus was only six, he grew up to be a diffident and reserved young man. He studied at the Slade where his drawing master was Henry Tonks and his talent was already apparent. As a result of a swimming accident he underwent a dramatic personality change and became a wild eccentric man about town and "a man for the ladies"
In 1901, he married Ida Nettleship with whom he had three children, and in 1903 began a long-lasting relationship with "Dorelia McNeil with whom he also had three children. Soon after his marriage to Ida he took up a teaching post at the University of Liverpool and it was here that his interest in gypsies began, which was to influence not only his painting but his whole way of life. He himself said, "We are the kind of people our father warned us against".
His portraits are familiar to most people, but I, at least, knew little of his flower paintings, his sunlit landscapes and his work during the war. We saw an intriguing collection of paintings and drawings but the one I recall most vividly is the portrait of the cellist, Madame Suggia in her voluminous robe which began as gold, then became white and finally that glorious and triumphant red.
A fascinating and wide- ranging evening.
Enchanted Woods: The Lost World of Rupert Bear
Tim Stimson
18 July 2013
For our July meeting Tim Stimson returned, offering us his insights into the work of the artist and illustrator, Alfred Bestall, famous for taking over the already established Rupert Bear series in the Daily Express, and its Rupert Annuals. After an initial history Tim introduced us to the art work in the end papers of the Annuals, giving them the context of a settled and beautiful England, that near "heaven" to be achieved away from the horrors of the First World War and the ugly threats behind the Second World War. The evening was well attended, despite the oppressive heat and the subject was well appreciated with recognition of who, and who not, had read Rupert as a child. Some people owned up to still getting, in retirement, their Rupert Annuals.
The Work of Dorothy Thelwall.
Christine Dummer
20 June 2013
It was a great blow to the development of our 2013 programme when sadly and suddenly Dorothy Thelwall died in February. It seemed important to hope, somehow, to keep the Dorothy Thelwall spot open, in order to recognise the quality of the work she would have been talking about. This issue was suddenly settled for us when our own member, Christine Dummer, bravely undertook, at short notice, to try to present to us something of the value of Dorothy's work. This she proceeded to do, with help from others of Dorothy's friends and with help from Dorothy's family. The programme Christine produced was divided, fairly seamlessly, into three parts, a quasi-biographical one, a photographic one, and an artistic one. Dorothy worked in a variety of the usual media, but including batik, and more recently tapestry. Those things that interested and inspired her, as illustrated in many of her photographs proved to be contagious and made a number of the audience undertake to rethink their approach to their art. There was a hidden instruction to look not just for the picturesque but for interest and life in the most unlikely of places. A garden riddle was used for tapestry. Watering can roses were arranged into a bouquet. Turned soil in a ploughed field offered further possibilities. Christine gave us a clear and suitably paced talk enabling an appreciation of Dorothy as a person, her work and above all her humour.
Thomas Fearnley
David Jackson
18 April 2013
It was good, for the April meeting, to meet up again with David Jackson, who presented his previously cancelled talk on Thomas Fearnley. Fearnley, with Yorkshire connections, saw himself as essentially Norwegian. He painted, normally, on a small scale and produced beautifully detailed oils which despite their small scale magnified really well on the screen. A great traveller, Fearnley tended to produce finished works of Norway for sale in the countries he visited, whether Italy or the Lake District. Even so he did local sketches for future reference. Sadly Fearnley died young, leaving an amazingly prolific output. Professor Jackson was given a very warm response for a very entertaining evening
An Artist's Life
Glynis Mills
21 March 2013
Glynis introduced herself and her art in a lively manner. She showed instances of her commercial work for Rowntree's and others and her free work, particularly, although not exclusively, with animals. She approached her work with a catholic interest, and with skill, in media and method, whilst emphasising a particular affection for printing in its differing forms. Her subject range gave us access to many attractive portraits of horses, cats, dogs and donkeys. Some dramatic scenes of horses and gypsy riders in the river at Appleby were particularly noteworthy. Having inspired by her account of the range and the demonstration of the quality of her work she concluded with a practical demonstration of some of the equipment she uses in the field.
AGM and Watercolour Demonstration
Alan Matthews
15 November 2012
The last meeting of the year started with the AGM, followed by a watercolour demonstration.
Local artist Alan Matthews gave a lively explanation of the working methods he uses to create his distinctive landscapes. As he created several large-scale watercolours he gave us an insight into the artist's choices, such as:
different types of brushes (flats, rounds etc and hog, sable , prolene etc, and different makes of brush) and their properties such as balance, bounce and different mark-making abilities
different weights and grains of paper
using the arm and wrist for mark-making
the choice of palette.
He gave tips on techniques such as using gouache with watercolour, wet on wet, wet on dry, and working fast and loose
Emily Carr - Canadian Artist
Brian Howard
18 October 2012
Brian Howard gave a fascinating talk about the canadian artist Emily Carr. Well known in her own country, she has attracted little attention here: a pity as her work was very well received by our audience. Like the (contemporary) Group of Seven, her aim was to present an authentic account of the Canadian wilderness, and she made many intrepid journeys in her quest to depict the forests of her native British Columbia. One of her major themes was the Canadian Indian village, particularly with its totem poles, which she used as a sort of visual lightning rod to present the spiritual power of the wilderness.
John Singer Sargent
Alex Purves
20 September 2012
Our September meeting featured Alex Purves talking about the life and work of John Singer Sargent.
He demonstrated some of Sargent's influences, including Velasquez and Manet, and explained that he was trained in both classical (glazes) and alla prima techniques and became a master of both. He also pointed out other aspects of Sargent's technique, such as his subtle use of the disappearing line.
As well as his celebrated portraits, (some taking months, some completed in 3 hours) we were shown some of Sargent's lesser known interiors.
In a spectacular finale, we were treated to a show of Sargent's breathtaking watercolours, often painted in a free bravura style.
The Work of Charles Smith
Sculptor of Letters, Stone Carver and Designer
16 August 2012
Local artist/craftsman Charles Smith gave an unusual and fascinating talk about his work as a sculptor of letters, stone carver, and designer. His work adorns many cathedrals, churchyards and monuments inlcluding St Pauls and the V&A museum. He talked about how lettering in the western world is based on Roman lettering on Trajan's column and how he branched out from classical designs to more idiosyncratic work. Particuarly interesting to working artists was how he sought refine aspects of his lettering to draw compositions together- just extending a Y shape in one example brought vertical text and horizontal text together. His carvings of lines from poems were also a revelation- how the shape of the words can be used to echo the meaning of the line.
For more information his website is www.lettercarvingcharlessmith.co.uk
Lady Butler
Tim Stimson
19 July 2012
Tim Stimson gave a stirring and insightful account of the work of Elizabeth Thompson, later Lady Butler, a hugely successful Victorian artist who specialised in painting scenes of war. He made the point that, she brought a sensibility and psychological depth to her work, something not found in any of her contemporary (male) war artists.
From the dramatic cavalry charging straight towards the viewer in "Scotland Forever" to a desolate rider, the sole survivor of the Afghan campaign, her work dealt in insight into individual responses to war, not stock 'heroic' attitudes.
She could arguably have been the first artist to paint what became known as "shell shock". Tim Stimson also located her work in its period, noting that in its vigour and celebration of heroic virtues it was the antithesis of the aesthetic movement.
Photograph Lady Butler c.1877
Modigliani
Professor Anthony Slinn
21 June 2012
Anthony Slinn made a welcome return visit to Ripon Arts and his topic this time was Amedeo Modigliani.
Debunking the myth of Modigliani as a drunken, dissolute misfit, he presented us with the picture of the man as a successful, hard working artist whose works were valued, and collected, by Pablo Picasso himself.
He discussed the development of Modigliani's distinctive style, showing how he was influenced by Botticelli, and by his early work in sculpture. In the second half he particularly concentrated on Modigliani's reclining nudes, showing how he integrated figure and background, half filling the canvas with the figure, and simplifying shapes and tones.
Watercolour Demonstration
Colin Swinton
17 May 2012
The May meeting was pleased to welcome Mr Colin Swinton, who came to offer a demonstration of the art of water colour painting. He identified a number of other water colourists who had recently inspired him(examples of whose work he made available, alongside finished works of his own).He used a photograph of Venice as his initial inspiration and offered three variant approaches to the development of his picture. The three outlooks are shown in our illustrations below. He bravely exhibited the essential fluidity of his medium, showing his confidence with colour and even working happily with his board held in his hand. His familiarity with the medium was clearly seen and his overall presentation was lively, interesting and informative, delivered with humour and confidence. A good evening.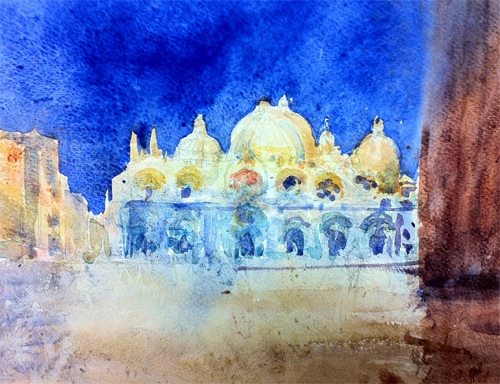 The Spirit of the North
Jan Cox
19 April 2012
Professor Jackson being unavailable, Jan Cox came at short notice to give us a talk on his PHD subject- the Spirit of the North, artists from Caspar David Friedrich to the Group of Seven. In an exceptionally informative talk he showed how many Northern artists- from Sweden, Norway, Denmark, Iceland and Finland influenced each other and, eventually, the Canadian Group of Seven.
Jan had many examples of work from artists who are perhaps not well known in the UK such as Pekka Halonen, Akseli Gallen-Kallela, Kitty Kiell and even August Strindberg; plus images of work by Tom Thompson, Lawren Harris and others of the Group of Seven who have recently been featured in the very successful exhibition at Dulwich. It was fascinating to see how these individuals have sought to caputure the essence of a northen landscsape and sensibility.
The Jack Pine by Tom Thompson
The Lives and Times of Major Portrait Painters
Harry Fletcher
15th March
Harry Fletcher made a very welcome return to Ripon Arts to talk about painting portraits.
In the first half of the evening he gave an overview of portraiture from the greats like Rembrandt and Velazquez, to lesser known artists like Eleanor Allen Moore. He discusssed the aims of portraiture - as power and propaganda in images of, for example Henry VIII and Elizabeth I; sumptuous display of wealth, such as Boucher's portrait of Marie Antoinette; to post-photographic portraits such as those of Picasso. He emphasised the importance of lighting when setting up a portrait.
In the second half of the evening he gave a demonstration of portrait painting using a large canvas, big brushes and emphasising speed, looseness and getting lights and darks established.
Due to shortage of time he was unable to finish his picture but below is how it looked at the end of the evening:
We look forward to seeing the finished painting
It was an evening when we were both informed and inspired!
We have received from Harry an image, which shows changes made to the demonstration painting - changed but not finished due to other assignments !
Members' Evening
16 February 2012
We started the year with a convivial evening of eats and drinks plus two lively short talks from members Linda Birkinshaw and Rosemary Muncaster.
Linda talked about her life as a professional artist: how she develops her ideas from preliminary drawings, and how she responds to briefs from publishers and authors. She showed many of her fantastic pop up books (she also does the paper engineering), calendars, cards, and children's book illustrations. She showed how the artist can ginger up a boring text with lively drawings, and talked about changes and opportunities in the publishing industry.
Rosemary Muncaster is involved with a children's project in southern India which she and her husband visit regularly. She talked about traditional Indian "Rangoli" patterns –beautifully coloured and intricate designs made from rice flour, made to celebrate Hindu festivals. She showed stills and videos about how they are made, and talked about their spiritual significance to the local community. They are intended to be ephemeral, and these beautiful designs last for no more than a day.
We also had a lively and challenging quiz and a memorable postcard art competition, won by Rosemary Muncaster with, appropriately, a tiger!
Art of Florence
Canon David Lickess
15 December 2011
Canon David Lickess gave a wonderful lecture on the 'Art of Florence'. As a frequent visitor to the city for many years and having a keen interest in art he was able to talk with authority on paintings, sculpture and the great Italian artists. A fitting end to the year's programme.
AGM and Pastel Demonstration
by local artist Sue Godden.
17 November 2011
Following the AGM, members of Ripon Arts were able to enjoy an evening watching Sue Godden giving a pastel Demonstration. Sue told the audience about what attracted her to working in Pastels and was keen to talk about their versatility, colour and texture.
The subject of the painting was a Scottish landscape which slowly developed starting with a dramatic sky. During the evening Sue discussed pastels, how to use them and the different kinds of paper as well as types of mounts and framing.
She didn't have time to finish the painting but is going to send photos showing the painting at the end of the evening and the completed painting, which we will put on our website.
Canaletto: Master Chronicler of Venice
Lizzie Darbyshire
20 October 2011
Lizzie Darbyshire gave a wonderful lecture on Canaletto, Master Chronicler of Venice with its festivals and ceremonies. Some of his early work was sombre later becoming paintings with atmosphere, space and light. Rich young aristocrats doing the 'Grand Tour' or as Lizzie puts it 'on their gap year' could afford to buy Canaletto's as souvenirs of their trip. As a result many of his paintings are in the grand houses of England. The largest numbers are in the Royal Collection. At the end of the lecture we were shown Canaletto's beautiful drawings and sketches which showed him to be an excellent draftsman.
The Art of Ed Kluz
Ed Kluz
15 September 2011
Ed Kluz, artist and designer, gave an interesting talk on his recent work and the inspiration behind his pictures. He showed members a large selection of images of his love of historical architecture and landscape, seeking out the lost and overlooked. His latest exhibition called 'Northern Arcadia' which is based on 18th century gardens of Yorkshire is being shown at the Hornsey Gallery in Ripon, until 8 October. Ed has an excellent website www.edkluz.com which will give a wonderful overview of his work and the chance to follow his blog.
Watercolour Demonstration
Peter Wooley
18 August 2011
Peter Woolley, a professional artist and teacher gave members of Ripon Arts Society a demonstration of watercolour painting. He explained the importance of a preliminary drawing, composition and tones. He used weak burnt umber paint to draw in his Lake District scene which he said worked best for him rather than pencil.
His colour palette was Prussian Blue, French ultramarine, cadmium yellow, burnt umber and alizarin crimson. greys were a mixture of French ultramarine and burnt umber.
Everyone enjoyed Peter's friendly and relaxed manner and the members who paint will take on board his many tips and good advice. Due to shortage of time he was unable to finish his picture but below is how it looked at the end of the evening:
Peter has kindly sent us an image of his finalised painting, together with explanatory notes, to let us know what he had done to it...
[1] I re-shaped the end of the stone wall (by the gap).

I never did like the way this had developed in the demonstration - far too pointy, and too dominant a shape in the composition. I needed to stand back and look at it for a while, though, before I could decide exactly how it needed to be modified. I scrubbed it out, then re-shaped it using the darker green of the background tree.

[2] I worked on the detail throughout; primarily in the foreground track, and in the stone walls and the barn.

I decided the foreground would be improved if I added more stones and textures. The walls, too, seemed a little sparse in the context of the composition, so I developed them a bit.

[3] I built up the foliage in the right-hand tree.

The foliage, during the demonstration, went down particularly well, so I didn't feel it needed too much more work doing on it. I simply went over it, adding a third layer, breaking leaf details down just a little more, then added a few extra branches.

[4] I added a further layer of detail in the background wash, just to explain the hillside a little more.

I often leave the finer points of backgrounds until much later on in a painting, when I can assess just how much detail it needs to explain what needs to be explained without adding too much unnecessary clutter. There are some crags here, which I wanted to make visible, mostly by negative-painting around them.

[5] I re-shaped the furthest sheep.

Sheep are often hit-and-miss in a demonstration situation. The head of the furthest sheep had simply turned out too large for its body, so I scrubbed it out and re-painted it - hopefully it looks more realistic now.

[6] I re-designed the right-hand wall.

In the source photo and sketch, this area was a mass of fallen stones. As the painting progressed, I decided it needed simplifying as it threatened to become far too prominent, and busy, so I created the impression of another track, leading off somewhere to the right, using mainly Burnt Umber and a smattering of extra shadows. All scrubbing-out was done with the Woolley's Wonderbrush.
Thank you Peter.
Jan Steen's Hilarious Household A 17th century paradox
Tim Stimson
21 July 2011
Mr Stimson's lecture on the Dutch artist Jan Steen increased our knowledge of the culture and history of 17th Century Holland as well as the meaning of the symbols used in his many humorous paintings. These were beautiful and colourful with the artist appearing in many of the wild drunken scenes in home and taverns. There were many layers of meaning which the artist tried to impart to us, the viewer. So with Mr Stimson's help we were able to begin to understand a little of this great artist's work
Guernica
Professor Anthony Slinn
16 June 2011
Professor Slinn's lecture on the greatest painting of the 20th century Picasso's 'Guernica', a picture that summed up what happened to the town of Guernica which was totally devastated during the Spanish civil war. We were able to follow Picasso's step by step planning of this huge painting and the symbolism used to depict the horror and beastliness of war. Professor Slinn's admiration for this picture was felt by all of us and gave us much to think about.
Gauguin
Michael Stewart
19 May 2011
Michael Stewart's lecture on Gauguin was a revealing insight in to an artist who was a creative genius both as a painter, printer and a potter. It was interesting to learn about his
sculptures and his ceramics which even appeared in some of his paintings. He was influenced by other artists and other cultures. Mr Stewart was able to show us a large selection of slides his work which gave us a more complete picture of this artist and we were able to enjoy his interesting and colourful pictures.
Vasily Vereshchagin - Russian Artist
Professor David Jackson
21 April 2011
Vasiley Vereshchagin, an artist almost unknown outside of his native Russia, is one of the most unusual and intriguing talents of the nineteenth century. The son of wealthy landowner, well-read, widely travelled, and an excellent speaker of English (he exhibited in his lifetime in the UK) this son of the nobility turned his back on a naval career, as was expected of his station in life, and instead trained at the Imperial Academy of Arts in St. Petersburg, and later in Paris. An inveterate traveller and a single-minded thinker, Vereshchagin became both famous and highly controversial for his blend of art and current affairs, touring the theatres of conflict to promote his pacifist views by exposing the grim reality of modern warfare in a remarkably impartial manner.
Vereshchagin's gentry status and financially self-sufficient position allowed him to do so without fear of professional damage, but he was no mere political commentator and this tireless artist-explorer toured the globe in search of ethnographic and cultural wonders, recording on canvas the places and peoples of such diverse locations as Turkistan, Central Asia, India, the USA and Japan. In his lifetime Vereshchagin's reputation surpassed all other Russian artists and he held many highly successful if contentious exhibitions around the world; a truly international painter whose appeal rested on a combination of artistic skill and unorthodox treatment of brave and challenging sub ject matter. This extensively illustrated talk will give a full exposition of Vereshchagin's life and art in the context of his age and the artistic climate of tsarist Russia to reveal a unique and deeply humanitarian talent deserving of much wider acclaim.
THE CIRCUS - THROUGH THE EYES OF AN ARTIST
17 March 2011
About 45 members & friends attended the lecture 'The Circus - through the Eyes of an Artist' by Harry Fletcher on March 17th. His promise to 'meet inside the big top and go behind the scenes' was backed up by a view of the circus across the centuries, through the eyes of artists such as Seurat, Lautrec, Tissot, Chagall, Hopper, Picasso, Laura Knight & Cindy Sherman. He shared excellent examples of their work inspired by the circus, backed up by stories about the artists & their relationships with the circus, and some of his own asides. A much enjoyed evening.
LANDSCAPE PAINTING IN ACRYLICS
17 February 2011
The demonstration of Landscape Painting in Acrylics" by Nigel Overton was well received by about 40 of our members. He took as his subject "Black Nab" - a headland on the North Yorkshire coast, near Whitby - and left many of us frustrated that we didn't see the finished article!
MEMBERS' EVENING
20 January 2011
2011 got off to a good start in Ripon Arts with our members' evening. Our aim is to start the year's programme on a more social level, while including some aspect of the artistic interests of individual members.
We started with a (Yorkshire-themed) game to allocate members to groups, useful later on in the evening and to help any new members to integrate. A display of collages was presented by members who had attended Ed Kluz's workshop, accompanied by a brief commentary by each artist to describe processes involved, difficulties encountered, and the success and enjoyment derived. The results were impressive, and it is possible that future such workshops may be quickly oversubscribed!
Members had previously been offered postcard-sized watercolour paper with the request for a piece of artwork of any sort – landscape, abstract, still life, animal life, flowers etc. The results of this project were also on display, and a remarkable variety turned up and generated much interest. The winner was a charming painting of a wild rose, by Sheila Linkleter, complete with a poem by Emily Dickenson on the reverse. All the postcards submitted will be distributed by the Rotary Club of Ripon to those in need of a cheery note, on behalf of both societies.
Fortified by an excellent buffet supper, we concluded the evening with a quiz carrying on the Yorkshire theme, and testing our knowledge of famous people born in Yorkshire, including artists, writers, sports and entertainment personalities, inventors and craftsmen.
We now turn our minds to the rest of the year and look forward to the next meeting on 17 February and a demonstration by Nigel Overton (see our programme)